Clinical Supervision for initial licensure in Florida for Mental Health Counselors
Do you need supervision? Clinical supervision supports trainee mental health professionals by offering oversight and support from a more experienced provider. To become licensed, all mental health providers must complete a minimum number of therapy hours under clinical supervision.
Florida law addresses supervision requirements and says a registered intern shall:
(a) Receive at least 100 hours of supervision in no less than 100 weeks; and,
(b) Provide at least 1500 hours of face-to-face psychotherapy with clients; and,
(c) Receive at least 1 hour of supervision every two weeks.
Supervision using electronic means is addressed in the Florida Administrative Code (known as 64B4),in 64B42.002: "…The supervisor and intern may utilize face-to-face electronic methods (not telephone only communication) to conduct the supervisory sessions; however, the supervisor and intern must have in-person face-to-face contact for at least 50% of all of the interactions required..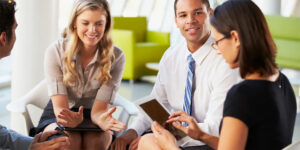 Prior to utilizing any online or interactive methods for supervision, the supervisor and the intern shall have at least one in-person face-to-face meeting. The supervisor and the intern are responsible for maintaining the confidentiality of the clients during both in-person and online or interactive supervisory sessions.
If an intern obtains group supervision, each hour of group supervision must alternate with an hour of individual supervision. Group supervision must be conducted with all participants present in-person. For the purpose of this section, individual supervision is defined as one qualified supervisor supervising no more than two (2) interns and group supervision is defined as one qualified supervisor supervising more than 2 but a maximum of 6 interns in the group.
Supervision must continue until a supervisee is licensed, even if the required supervision hours have been met. This is often confusing for those who work in organizations that do not require their staff to be licensed. If someone is employed in such an organization but decides to pursue licensure by becoming a registered intern, the rule still applies and the registered intern must remain in supervision until he or she holds an active license to practice.